Church MemberLink July 3, 2020 10:35 Member Module Login
Bulletin Board

WELCOME
Your "online" Church Bulletin Board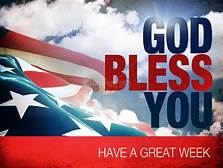 David, A Man of Faith

Grace and Peace on this mid-week journey.

Of all the Biblical characters of the Old Testament, David is by far the most complex. We find, in the beginning, a simple shepherd boy. We end the story with an aged king whose life has spanned from the depths to the heights and back again. There is no way I can do justice to the life of David in one simple article, but here we go.

David is the typical little brother who annoys his older brothers. When Jesse sends David to the battle with food for his brothers, they are aggravated by his presence. We hear it in their accusatory tone concerning "who is watching the sheep?" They must have been really upset when David approaches king Saul about fighting Goliath. You know the story, David selected five smooth stones from the riverbed to face the giant. He only used one! Why did he choose four more? Because between Goliath's brothers and sons there were four more giants who he could potentially have to fight. That is faith!

David is then thrust into the midst of palace life. King Saul's son, Jonathan becomes David's best friend. When David leads Saul's troops into battle it is always a great victory. When the people cry out in celebration, "Saul has killed his thousands, and David his tens of thousands" King Saul becomes jealous. The green eyed monster of jealousy tears at Saul's heart until he sees David as the enemy. Through his own sinfulness, Saul has the promise of kingship ripped away from both him and his children. David is chosen by God to be the next king of Israel and as such is anointed king by Samuel the prophet.

For a period of about ten years David flees for his life from Saul. On at least two occasions David has the opportunity to kill Saul. Even the men who have rallied to David and follow him as their leader encourage him to take the life of Saul and become king. David's words and actions are clear, he will not lift his hand against the Lord's anointed. David trusted in God to do it in His way and in His time. That too is faith.

When Saul is killed in battle and David is named king, it is not an easy road. Not everyone is excited to have David as king. There are enemies from without and enemies from within and yet David persevered. Having subdued his enemies and united the nation, Israel enters a time of peace and prosperity.

There are still enemies in the other nations and there are times of war. Yet, as king, David becomes a little careless. Careless with his men and with his own heart. While his men are at war, David is in Jerusalem watching Bathsheba bathe. This leads to adultery and then murder. There are consequences which follow. The child dies and David has strife in his own family. His son Absalom assumes the throne and David flees town with his tail between his legs. Everything in David's life points to a man who was as fallible and sinful as any one of us. Where Saul had turned from God to seek guidance from pagan worshipers, David turned back to God even as guilt and despair filled his heart. This above all is what makes David a man of faith.

It is not that God expects any of us to be perfect. That would mean removing our sinful nature from us to make such a thing possible. While this is what is promised to us when our life in this world ends, God knows it is impossible for us to be holy this side of heaven. We will not be perfect. We will make mistakes and we will sin. This is part of what it means to be human in this world. What God is looking for is for each of us to have faith like David did. Faith which trusts God to lead and guide us in our lives as we patiently await His timing for all things, just as David did. People who live by faith, trusting there is nothing which can overcome us as we live in this world for God. Just as David saw the giant fall. Faith that holds onto the love of God even when we fail and fall. Faith which truly believes that there is no sin so great that the blood of Jesus cannot wash it clean. A faith which lives in a real, true, relationship with God.

If we are called to be anything it is to be a people of faith. As you move through this week, take a moment to reflect on God's love for you in Jesus. Reaffirm in your heart your love for Him and step out and walk forth in the faith God has caused to live in your heart.

Blessing In Jesus Name,
Pastor Russ

It is with great sadness that we announce the retirement of our beloved Nancy Watters after 35+ years of service to St. Mark's. Her last day with us will be July 29th.
Hear, in Nancy's own words, about her history at St. Mark's:

I began my work at St. Mark's in August of 1984 as just the "secretary." I was one of four full time employees. As the secretary, I did everything: answer the four line push button phone (even for the school as they did not have their own line), typed checks to pay all the bills, did the complete bookkeeping including payroll and all of the financial reports (done by hand). I typed (we did not have a computer) letters and even typed the pastor's sermons; I did proof reading for the pastors and booked hotel rooms when needed. I kept all of the membership records which was also done by hand in a big book. I prepared the Sunday bulletins. When we got a computer, we only had one for all of us to use. I have said I was trained BC (before computers). I basically had to teach myself how to use it.

Over the years, I have worked with seven pastors and eleven associate pastors and one pastor emeritus and countless employees.

As the church grew, my position evolved to Office Manager and finally Pastor's Administrative Assistant and Financial Secretary which means I receive all offerings and post them to individuals. My duties changed with a growing church, as we hired more and more employees. We all became a close knit family. No one was excused when a job needed to be done. We all pitched in to help one another. I have cleaned the bathroom and swept the sanctuary.

In 2000, my husband retired and in 2004 I went to part time so we could start traveling. I didn't want to quit St. Mark's altogether. We were able to do one European trip before he got sick in 2007. I was going to quit to take care of him but the wise Rev. Tom Nagle said, "you can have as much time off as you need, but I won't let you quit." This was the best thing for me as I returned to work; I had something to do; I had friends to be with every day. This job has meant the world to me and I have loved St. Mark's since I started. I never not wanted to come to work.

My husband and I raised three boys in this church. I can think of no other place I would want to be, so you probably haven't seen the last of me yet.

-Nancy Watters
Memorial
A memorial has been given in honor of Karoy Jacobs
by Dr. Allan and Ruth Lindstrom
to St. Mark's Traditional Choir.
It's with great excitement that we announce that Yvonne Myers will be taking the position of Pastor's Administrative Assistant and
Financial Secretary.
More information about Yvonne
will be forthcoming.
Welcome, Yvonne!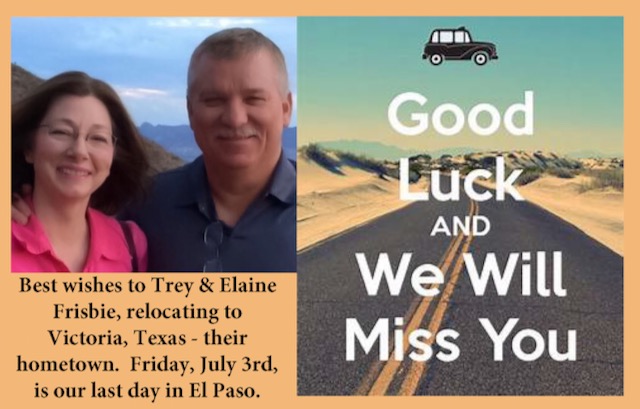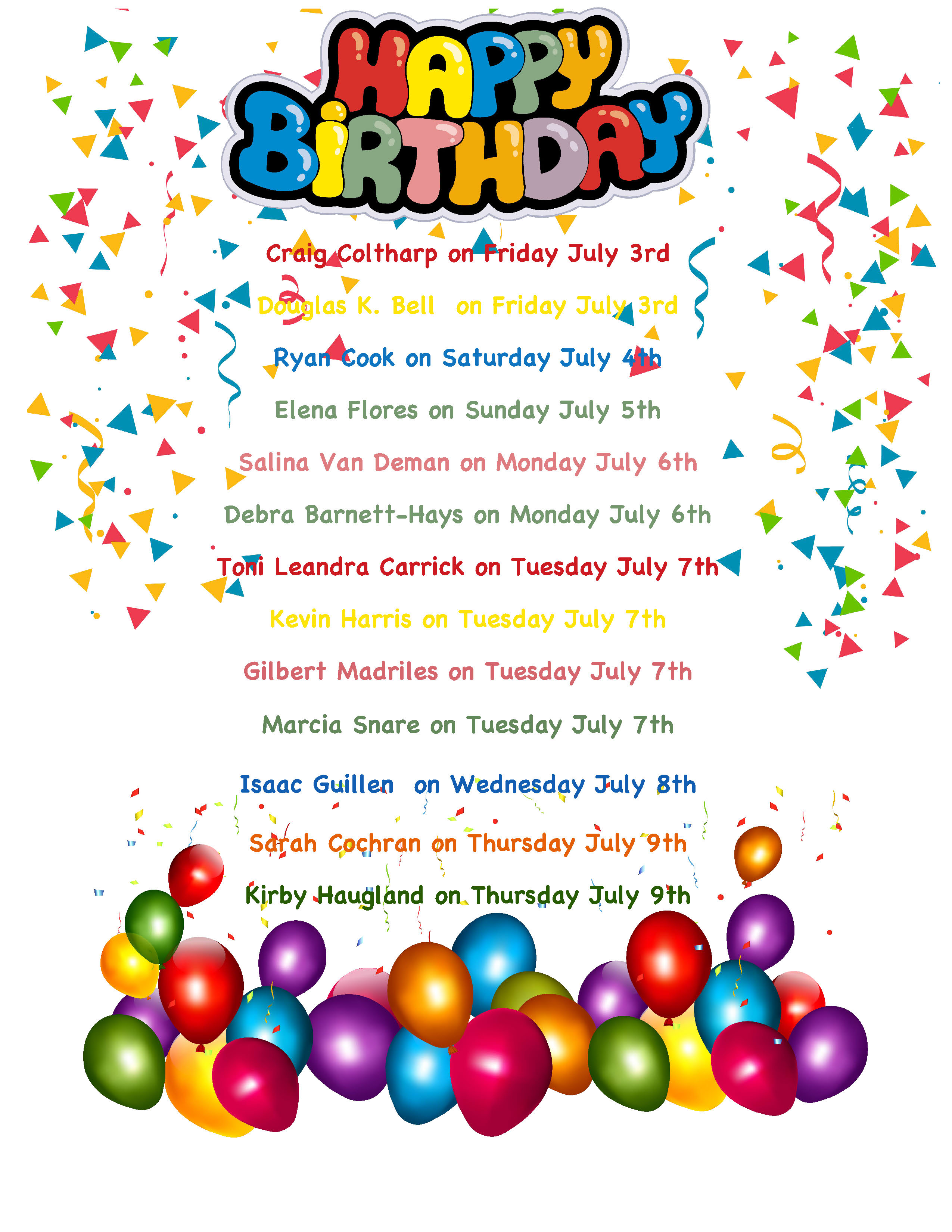 CLICK PHOTO TO SEE HOW YOU CAN HELP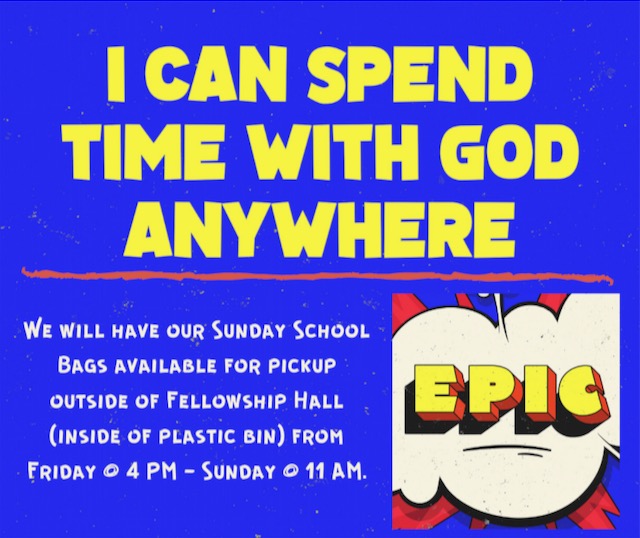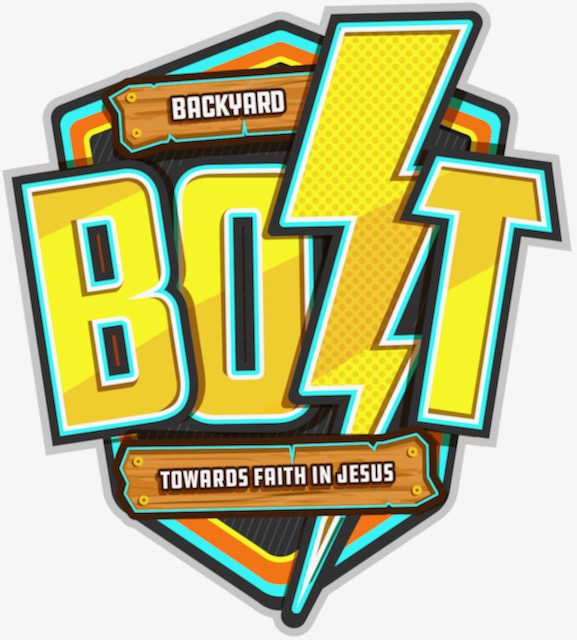 7/13 - 7-15

New Mark'smen Study starting July 8th







Pastor Russ will lead a new study on Wednesday nights at 6:30 based on the book Wild at Heart by John Eldredge. Meetings will be in the choir room and available virtually as well. Books are free and can be picked up at the church or arrangements can be made to deliver. If you would like a book delivered, contact Glen Myers or Pastor Russ.

New study coming soon:
"Why? Making Sense of God's Will"

Where is God when tragedy and suffering strike?
This study brings insight to the age-old question of how to understand the will of God.

Join us to explore life's tough questions, in light of our faith, as we face the challenging issues of today.

Starting:

Wednesday morning

June 24th

At 9:30am

on Zoom

For more information regarding this study,
please contact Elaine Frisbie.




KIDS ARE NOT THE CHURCH OF TOMORROW
BUT THE CHURCH OF TODAY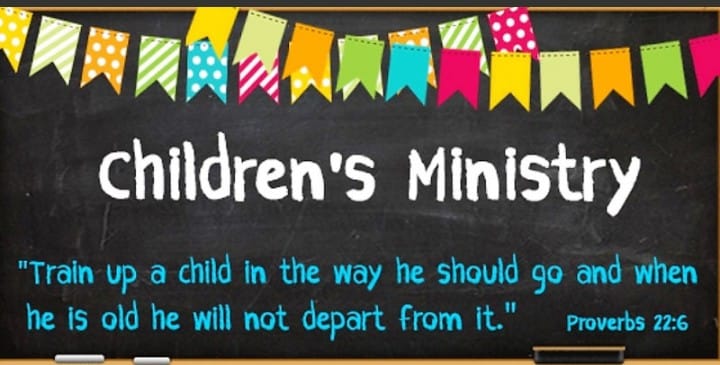 Our Children's Ministry Team
invites families to join their Facebook group,

St. Mark's Nursery & Kid's Church

to stay connected and get updates on events/virtual content.

If you would prefer to receive these through email
please contact
Sarah Serwatka at sarah.serwatka@yahoo.com.







What a great resource to use during this time of isolation! Great Biblically based videos for kids and adults to help us grow deeper in our faith.
It seems that so many of the invitations sent have gone to people's junk mail, so here is a direct link to an invitation to sign up!

If you aren't comfortable with online giving, you can mail a check to:
5005 Love Road, El Paso, TX 79922.
_______________________________________________________________________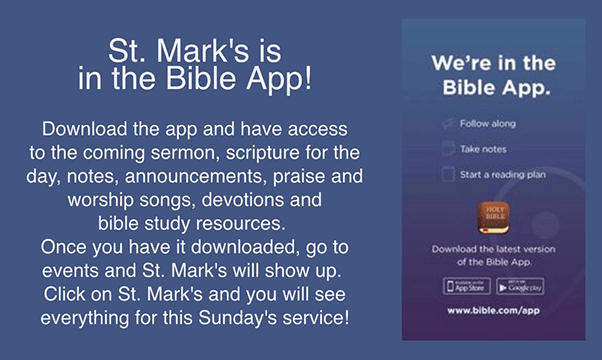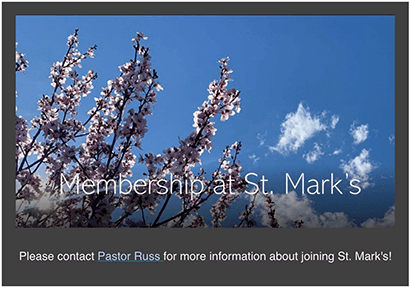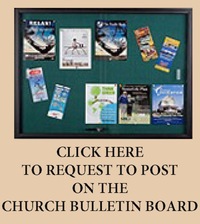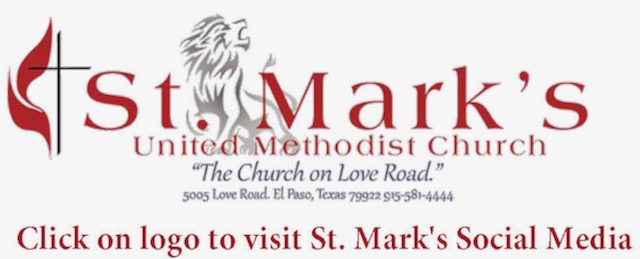 Six Ways to Give:
Download the Generosity by LifeWay app from the Apple or Android store to give to St. Mark's United Methodist from any smart phone or device.

Save all of your tax-deductible gifts in one convenient place.
Church is closed until further notice

St. Mark's Men has kicked off a new ministry in conjunction with the Veterans Transitional Living Center of El Paso. Good used furniture is being collected by the Men's Ministry to assist veterans as they transition from homelessness to the center and then to their own apartment or home. If you have any furniture or household items you would like to donate, please call the church office or Glen Myers at 915-261-5522.
Use your credit or debit card to give online through our secure system.

Our church's accounting department will directly process your gift, ensuring complete confidentiality.
MAIL
Mail your check to:

5005 Love Road
El Paso, TX 79912
Text the phrase: @loveroad with your gift amount to 52014.

Click here for detailed instructions, information about recurring gifts, and designated giving codes.
OFFERING PLATE
Church is closed until further notice
We invite you to give in person during weekend services. Call the church office to receive personalized giving envelopes.

When Church Resumes..


Adult Sunday School 9:45am

Agape Adults ( Race Parlor)
Differently Abled (Zumwalt Hall)
Followers Adults ( Conference Room)
Grades K-5 (Room 11)
Preschool (Nursery Room B)

Children & Youth 11:00am

Mid-High (Walker Annex)
Youth (Youth Room)
Grade K-5 (Room 11)

Tap logo to return to our Main Website

Church Communications Bulletin Board
Have news and schedules of upcoming events you would like posted on the bulletin board?
Contact your the church (915) 581-4444 or email: admin@loveroad.org